Through its Market Readiness Program, USAID Visit Tunisia is providing one-on-one technical assistance to prepare Tunisian small tourism businesses to be "ready" for visitors eager to explore unique accommodations and experiences in the regions of Kebili, Gabes, Jendouba, Kairouan, Tozeur, and Tataouine. 60 businesses selected from an initial pool of 160 applicants embarked on a transformational journey to deliver and market unforgettable visitor experiences. To foster the implementation of market-readiness improvements identified during the technical assistance phase, the participating businesses will be able to apply for a grant support of up to $5,000 USD. Additionally, they will receive high-quality content for improved online and offline promotion such as flyers to support their marketing initiatives.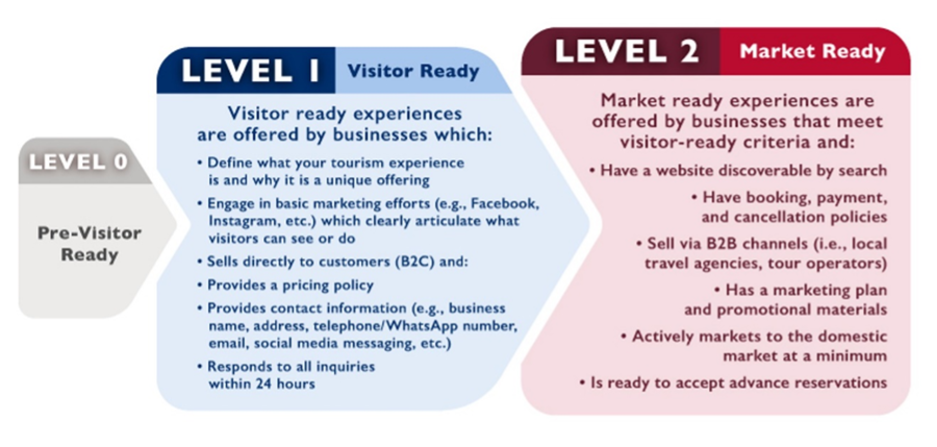 Graphic representing market readiness levels. The Market Readiness Program aims to transform the 60 supported businesses from Level 0 to Level 1 or from Level 1 to Level 2. Photo: ©Solimar International/USAID
The Transformational Market Readiness Journey of 60 Businesses
"By designing and implementing the Market Readiness Program among other programs, we aim to contribute to the increase of the competitiveness of the private sector through increased access to domestic and export markets. Our sixty partners across Tunisia embarked on a long and yet exciting journey that will transform their business. Some will move from 'Pre-Ready' to 'Visitor-Ready' while others will break into the market. Starting from November, visitors will fully enjoy their unique and authentic experiences from nature and adventure to food and culture to name a few."
—Michele McKenzie, Tourism Products and Experiences Team Lead, USAID Visit Tunisia Activity.
Selecting 60 Businesses Through an Open Call
March 2023 marked the
launch of a call
for applications for the "Market Readiness Program". 60 small tourism businesses were selected to participate in the MRP from an initial pool of 160 applications received – 10 in each of USAID Visit Tunisia's priority destinations. The selection was based on several criteria. Legal registration, absence of negative impact on the natural and cultural environment of the destination, and inclusiveness of women are a few criteria examples. The Market Readiness Program is aligned with market readiness tool developed by USAID Visit Tunisia based on international and domestic market research conducted in 2022. The tool evolves with changes in the marketplace. Read more about the MRP eligibility criteria
here.
Providing a Roadmap for all the Businesses.
USAID Visit Tunisia is currently delivering one-on-one technical assistance until November 2023. During this phase, each of the sixty participating businesses will receive personalized suggestions to advance market readiness such as branding help, experience design, traveler friendly marketing materials, and social media advice These outputs will serve as the Business Improvement Guide for each business to pave the way for its market readiness journey.
The program's educational curriculum follows these modules:
How to design your tourism experience
Defining what makes your offering unique
Understanding your customers' journey
Finding your target market
Defining stories for your destination and how to appeal to visitors
How to price your experience/tour
How to brand and market your tourism accommodation or experience
Developing a creative brand
Creating an effective online presence
Setting up your booking system and managing inventory
Designing printed marketing materials
How to deliver excellent customer service and manage reviews in your tourism experience
Learning visitor-expected service standards
Crafting responses to reviews
Measuring customer satisfaction
Selling your tourism experience through sales partners
Learning booking processes and channels for travelers
Forming relationships with tour operators
Managing online booking platforms
Developing High-Quality Content for Marketing Initiatives
Based on the identified needs, each of the participating businesses will receive a custom content package and concrete materials such as flyers or high-quality content including Reels or photos to support their online marketing initiatives. One business might need a flyer to distribute whereas the other might need Reels and quality photos to improve its social media presence. The content package is USAID Visit Tunisia's legacy that the businesses will carry out through their journey and beyond with the freedom to adapt it, improve it through the years and use it as they see fit to meet their marketing and communications goals.
Fostering the Implementation of Market Readiness Improvements with Grant Support of up to $5,000 USD
Legally registered businesses which complete the technical assistance phase of the MRP will be eligible to apply for a grant of up to $5,000 USD to help implement market readiness improvements identified in the technical assistance phase. This will differ from one business to another according to their needs and priorities. The call for application will be open from the end of September until the end of November 2023. Grant applications will be evaluated against the criteria below:
Strength of business improvement project
Impact on sales
Technical Approach
Partner Spotlight: From Gabes to Tataouine
Since March 2023, small businesses like Domaine Oued el Khil in Tataouine, and Dar Zmerten in Gabes have embarked on a transformational Market Readiness journey. USAID Visit Tunisia is proud to present some of its engaged partners who are working hard towards bringing their business to the next level through the Market Readiness Program with a focus on improving the branding, marketing, promotion and booking opportunities.
Domaine Oued el Khil: Experience Sustainable Living amid Tunisia's Arid South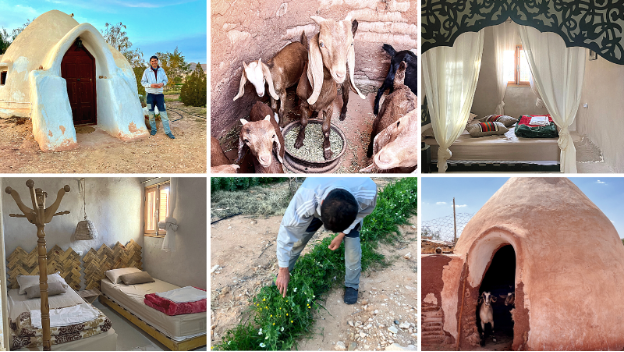 Domaine Oued El Khil. Photo: ©Solimar/USAID
For nature-loving individuals that want an immersive, eco-friendly, farm-style experience,
Domaine Oued El Khil
is a guest house that is sure to show visitors firsthand the potential in sustainable community building. Unlike more urban accommodation options, Domaine Oued El Khil guest house provides an unmatched sense of peace and hospitality, coupled with a core focus on supporting our environment.
Radhouan Tiss, a retired high school History and Geography teacher and self-taught permaculturist and eco-constructor, founded Domaine Oued El Khil, a beautiful eco-guest house that can accommodate up to 12 visitors in 2015, with a singular core value in mind: show all visitors the importance of sustainability. On the property, guests can savor meals made from the permaculture garden, where the technique is seamlessly integrated with the native ecosystem. Alongside modern agricultural theories and a commitment to sustainability, Radhouan has created a harmonious ecosystem that is both productive and nurturing.

Among the program's outputs, USAID Visit Tunisia is supporting Domaine Oued El Khil in developing a strong brand messaging and in a "signature" tourism experience. Guests will enjoy a unique culinary experience and learn how to cook an authentic Amazigh meal with ingredients that would gather from the permaculture garden at the Domaine.
Dar Zmerten: Experience a Home Away from Home in a Quiet Mountain Town in Gabes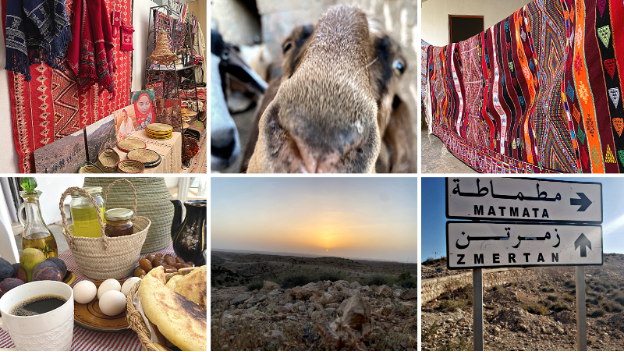 Dar Zemerten. Photo: ©Solimar/USAID
For nature-loving travelers that want an immersive, cultural experience in a Tunisian homestay,
Dar Zmerten
is a guest house that allows guests to experience family life in a small mountain town. Unlike disconnected urban accommodation options, Dar Zmerten provides guests with authentic Tunisian hospitality in the calm mountain setting.
Ali Mansour, a devoted advocate of preserving cultural heritage and empowering local communities, began his work on Dar Zmerten when he renovated an old troglodyte home across the street from his own house, transforming it into a simple, but pioneering museum in 2001. Seeing a need for lodging in his small hometown, Zmerten, Ali opened the doors of his home to guests in 2006. The guesthouse was no longer a simple abode but a conduit for a rich cultural exchange. It wasn't merely a homestay; it was an invitation to share in Ali's journey of art, culture, and connection.

USAID Visit Tunisia is supporting Dar Zmerten in developing a strong brand messaging and in creating tourism experiences based on cultural heritage, local flavors and nature and history. Exploring the Amazigh life in Gabes through an interactive Zmerten village & troglodyte museum tour or an overnight stay with a local family; trekking to Dahar's highest peak and discovering WWII sites, fascinating geology, prehistoric fossils, and ancient villages in the Gabes mountains are examples of experiences that visitors might enjoy starting from November 2023.
The Market Readiness Program (MRP) is a one-on-one technical assistance program designed to prepare Tunisia's small tourism businesses to be "ready" for visitors eager to explore unique accommodations and experiences in Tunisia. The MRP aligns to the Readiness Criteria developed by Visit Tunisia. The MRP focuses on assisting entities move along the continuum from 'Pre-Ready' to 'Visitor-Ready' or from 'Visitor-Ready to 'Market-Ready'. The program is available to small tourism businesses offering an experience to visitors in Ain Draham/Tabarka, Tataouine, Douz, Kairouan, Gabes/Matmata, and Tozeur/Nefta.