Since the release of its video compiling key achievements from the start of the project to February 2023, USAID Visit Tunisia continued supporting businesses, increasing employability, expanding opportunities for women and youth, and driving investments. If you're interested in discovering more about the project's impactful work throughout Tunisia, keep reading and check out the infographics below. 
---
The USAID Visit Tunisia Activity aims to enhance the country's sustainable tourism potential, with the goal of generating revenues and jobs. This will be achieved by capitalizing on the country's rich natural, cultural, and historical endowments to develop a diversified and high-quality sector that supports broad-based economic growth. 
---
10 Impact Activities at a Glance! 
USAID Visit Tunisia Activity has accomplished several significant milestones since its launch laying the foundation for a sustainable future for Tunisian tourism. Here are the top 10 key activities from our project from October 1st, 2022, to September 30, 2023:  
● Designed and implemented 3 marketing campaigns for domestic and international travelers which created 84 linkages, engaged 1000+ citizens from local communities and promoted 70 SMEs . Know more about the Nature & Adventure SME campaign, the Authentic Tunisia campaign and the Tounes Lik campaign. 
● Through the Market Readiness Program, provided technical assistance designed to improve the profitability and sustainability of 60 SMEs, with a focus on experience development, book-ability, and promotion. 
● Through the Tunisia Living Cultures Program, began to support 30 artisans in creating 30 new tourism experiences and developing them to be market ready. 
● Through the Festival Incubation Program, delivered technical assistance to 6 festivals, strengthening their capacity to fund, promote, and manage larger numbers of visitors. Know more about the International Oasis Festival, the Roman Days of El Jem Festival, and the International Festival of Matmata. 
● Finalized 6 destination development plans (DDPs) which will serve as a go-to resource for tourism product development support and private investment initiatives. 
● Through the Tourism Associations and Federations, Strengthening Program, provided mentorship to 47 associations and 8 federations and launched an e-learning platform providing free, online courses to the Tunisian tourism industry. 
● Through the Pathways to Professionalism Program, improved the quality of service in 99 hotels through training and enhanced the employability of 900 staff members in areas including food production, food and beverage, and housekeeping. 
● Through the SME Training and Assistance Program, delivered trainings and workshops to 197 SMES designed to upgrade their operational standards, establish new market linkages, and improve their profitability. 
● Facilitated the  signing of an agreement with French air carrier Transavia to introduce a new flight from Paris to the Tozeur Airport, the first international flight since the pandemic. 
● Supported 977 micro and very small enterprises operating in the tourism sector with micro-grants and micro-lending.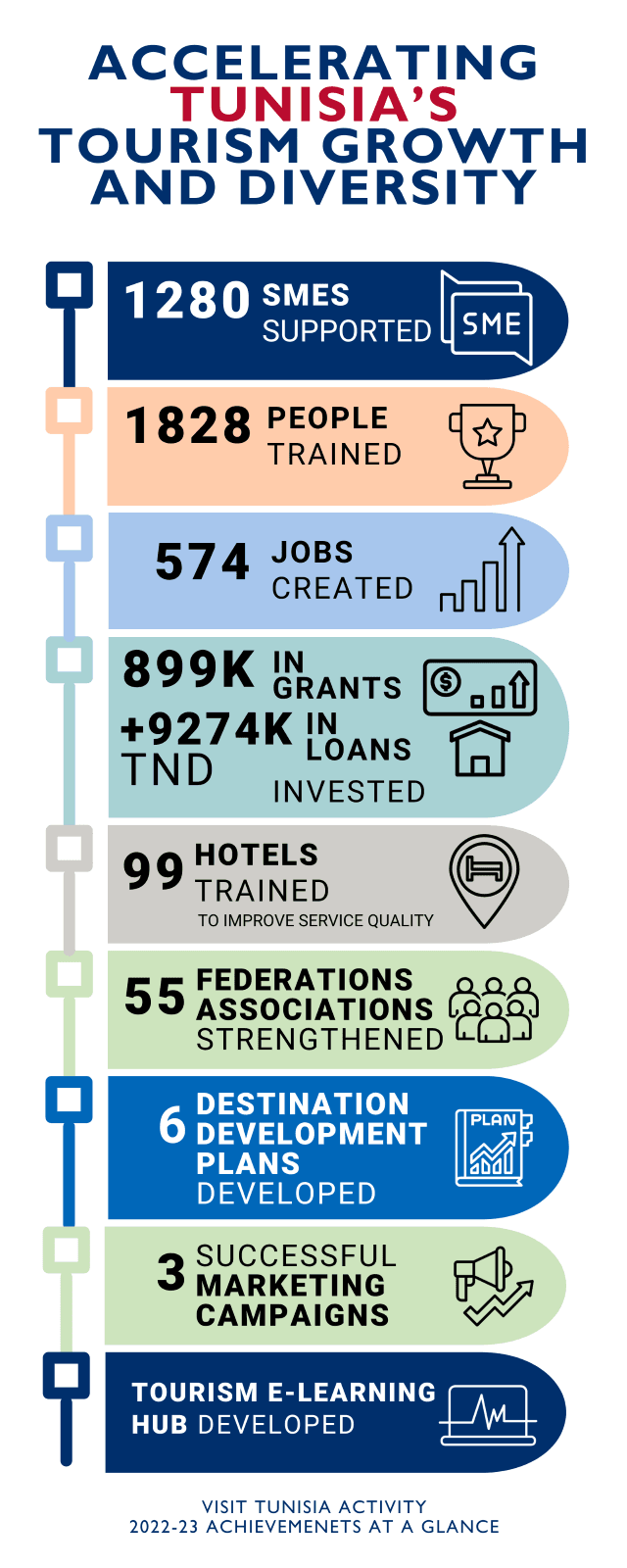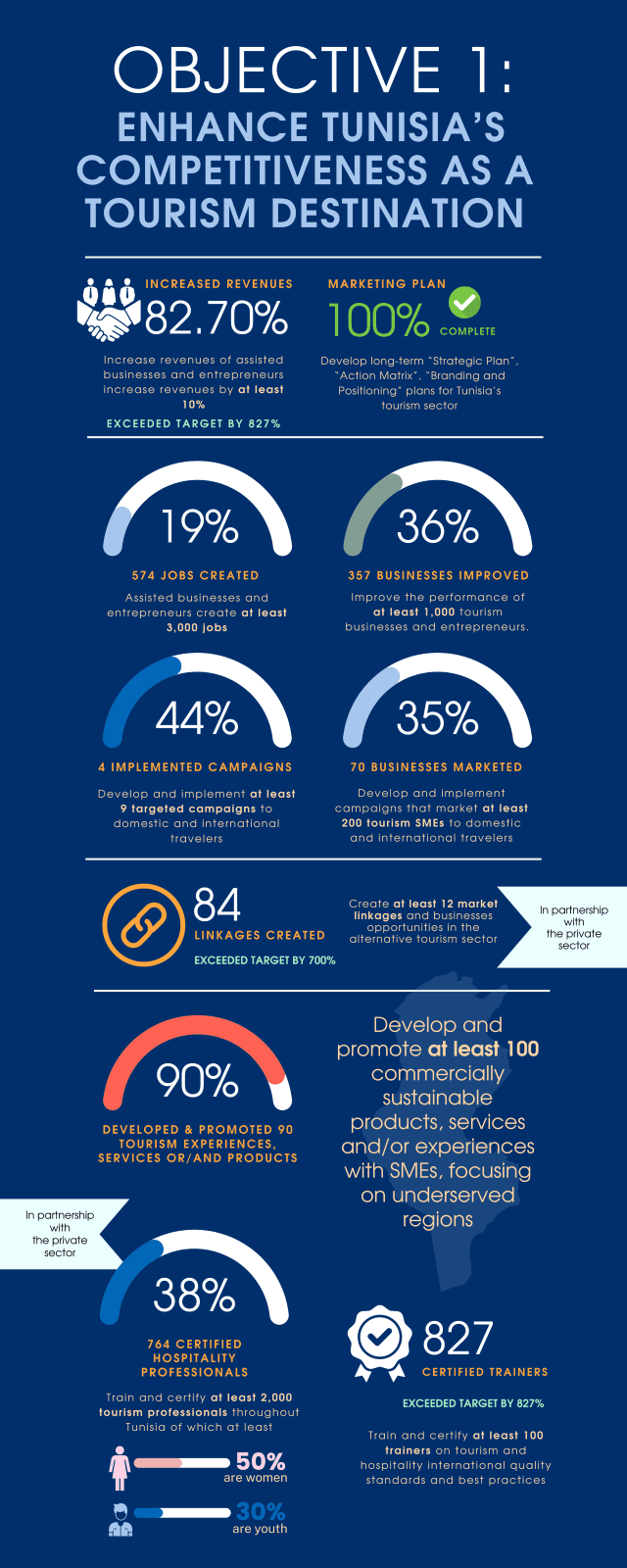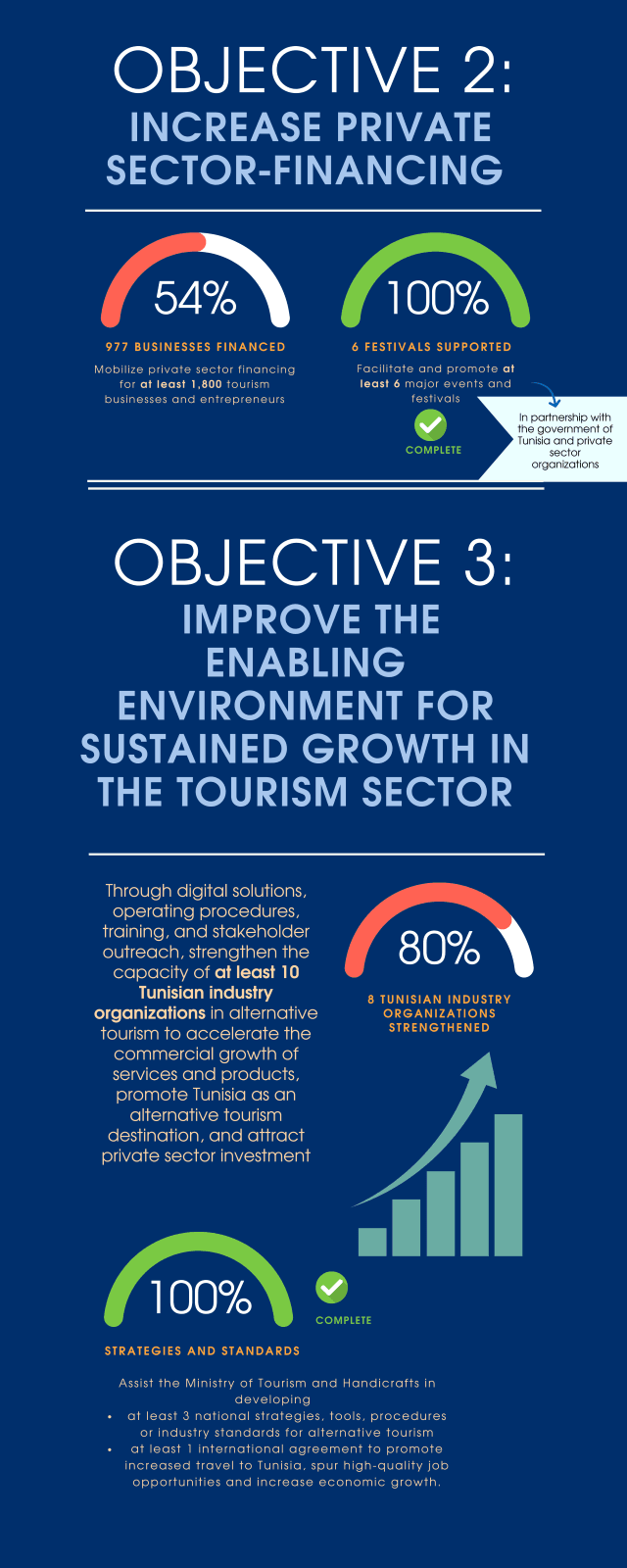 Read more stories here. 
Explore ongoing opportunities here. 
Contact us at info@VisitTunisiaProject.org